Slowtunes
Slowtunes was a performance-lecture about slowed/slowing-down music, which I debuted at the You Are Here Festival 2015. In 2016, Slowtunes became a music radio program, airing a run of 26 episodes on 2XXFM on Thursday nights from January to June.
Most episodes focus on a particular theme or genre or idea or piece of music history, including Chopped and Screwed, Paulstretch, the Inception soundtrack, Cumbia Rebajada, vaporwave. Other episodes are looser, a grab-bag of whatever I felt like slowing down that week plus requests.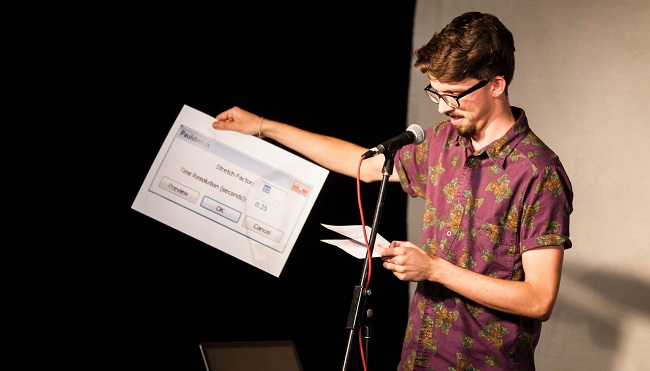 Listen to full episodes (1hr mp3s)
07-01-2016 - Episode 00 ► DJ Screw: South Side Players
"0th" episode, just jamming a Screw tape.
14-01-2016 - Episode 01 ► Slowed Oldies
Slowed hits of the 50s, 60s, 70s including tracks by Bunny Berigan, Screamin' Jay Hawkins, The Four Seasons, The Lovin' Spoonful, Ray Charles, The Beatles, Duke Komoku and his Islanders.
21-01-2016 - Episode 02 ► 800% Bieber
Getting into some Justin Bieber, Paulstretch, more Bieber, more Bieber.
28-01-2016 - Episode 03 ► Buttress O'Kneel: Stretching of the Spirit & Pop Smears
Investigating some great stretching experiments by Australian artist Buttress O'Kneel, featuring transformations of Queen, Katy Perry, The Beatles, Radiohead, and Tony Abbott.
04-02-2016 - Episode 04 ► Requests
Featuring Alvin and The Chipmunks, Notorious B.I.G., HTRK, Aphex Twin, Yma Sumac.
11-02-2016 - Episode 05 ► Cumbia Rebajada
Rebajada is a Spanish word meaning 'reduced'. DJs in Mexico are slowing down Colombian cumbia music and it's great.
18-02-2016 - Episode 06 ► Local Special: Hiphop
A selection of Canberran hiphop artists get the Slowtunes treament, including Stateovmind, Citizen Kay, Coda Conduct, Coolio Desgracias and Housemouse, D'Opus & Roshambo, Hayds, Lash, Nix, Omar Musa and Suavess.
25-02-2016 - Episode 07 ► Girlcrush: slowed 90s female alt-rock
Featuring DJ Volume's slowed versions of Spiderbait, Tracy Bonham, Michelle Branch, K's Choice, Hole, Alanis Morrisette, L7 and The Mavis'.
03-03-2016 - Episode 08 ► Requests
Featuring tracks by This Mortal Coil, Burial, Xiu Xiu, Kid Rock, No Doubt and Brian Eno.
10-03-2016 - Episode 09 ► Chopped and Screwed
A primer on DJ Screw and his legacy, featuring tracks by Dr Dre, 2pac, Three 6 Mafia, Z-RO, Notorious B.I.G., Fat Pat & Lil Keke, and Hot Boys.
17-03-2016 - Episode 10 ► Audio Theory / Blink 182 / Cherry Moon On Valium
A mixed bag of musings, featuring tracks by Blink 182, Radio Soulwax, The Prodigy, and Mason vs. Princess Superstar.
24-03-2016 - Episode 11 ► Local Special: Indie / Pop
A selection of Canberran indie + pop artists cop some Slowtunes love, including Wallflower, GhoistNoises, Alex Gilbert, Brother Be, No Hausfrau, Nick Delatovic, Burrows, Pocket Fox, Slow Turismo, Tom Woodward, and Fun Machine.
31-03-2016 - Episode 12 ► Requests
Featuring tracks by Abba, Foreigner, Tay Zonday, KLEY, Miley Cyrus, Mathhead, Scooter.
07-04-2016 - Episode 13 ► Inception
Investigating the time-distorted musical motifs at the core of the Inception soundtrack, featuring tracks by Edith Piaf and Hans Zimmer.
14-04-2016 - Episode 14 ► More Chopped and Screwed
Let's hear some screwed up stuff from DJ Screw, Z-RO, Hawk + CL'Che, Juicy, and the late great Fat Pat.
21-04-2016 - Episode 15 ► Local Special: Rock
A bunch of Canberran rock acts get slowed n throwed, including Faux Faux Amis, Glitoris, Cracked Actor, Sunset Dreams, Bad Lifers, Wives, Konrad Lenz and the Spirits Of The Dead, The Painted Hearts, Looking Glass, Agency, and Fuzzsucker.
28-04-2016 - Episode 16 ► Witch House
A look at the microgenre phenomenon, featuring tracks by Salem, Balam Acab, oOoOO, White Ring, and Horse Macgyver, plus FrankJavCee's How-to.
05-05-2016 - Episode 17 ► Dead DJ Joke's Slowest Hits
A mixed bag of slowed tunes including tracks by Salem, The Cure, Radiohead, Eric Carmen, Herb Alpert, Tommy James & The Shondells, and Fergie.
12-05-2016 - Episode 18 ► Screw Dub '95
A good chunk of tracks from DJ Screw's Screw Dub '95, featuring Geto Boys, 2pac, E-40, Big Mello, Kevin Kev, Notorious B.I.G., Two Fancy & Victor Black.
19-05-2016 - Episode 19 ► v a p o r w a v e
What is vaporwave and where did it come from? Hear a short history and a selection of tracks from some crucial releases, plus cuts from Canberran label Commercial Dreams Ltd.'s massive compilation. Features tracks by Chuck Person, James Ferraro, Macintosh Plus, Blank Banshee, J A V A . E X E, Valet Girls, disk system, m a l i b l u e : (, SEA 0F D0GS, .mp3Neptune, Datadisk online, and SIMPLE SITUATION. Yep, I know it's pronounced 'Echo-jams' ;)
26-05-2016 - Episode 20 ► Local Special: Electronic
Canberran electronic beats/dance/etc gets slowed, including cuts from Vallis Alps, SAFIA, Mondecreen, California Girls, GhostNoises, Gunwaif, Bottle Brush, Spartak, P A R K S, Calico Cat, and Paul Heslin.
02-06-2016 - Episode 21 ► Balearic Sundown
Is Balearic Beat a style of DJing or a genre or music? Wikipedia leans towards the former, but Balearic Sundown Sessions Vol. 06 (2009) suggests otherwise [sunset emoji] [beach ball emoji] [palm tree emoji].
09-06-2016 - Episode 22 ► Mixed Bag
Including Jim Wilson's "God's chorus of crickets" debunked, The 1981 two-speed version of Dolly Parton's Jolene, plus slowed Chipmunks, Taylor Swift, Whitney Houston, Cher, Darude, and Lil Wayne.
16-06-2016 - Episode 23 ► PaulStretchFest'16
A closer look at Paul's Extreme Sound Stretch, the man behind it, his inspirations, how the software works, plus plenty of extremely-stretched music featuring Ray Charles, Sam Cooke, Justin Bieber, and Paul Van Dyk.
23-06-2016 - Episode 24 ► Local Special: Metal
A slowed selection of Canberran metal music curated by guest Nick McCorriston, founder of 2XXFM's Chromatic Death program. Featuring music from 4DEAD, Wretch, Honest Crooks, Looking Glass, I Exist, Kitten Hurricane, Hell Mary, and The Levitation Hex.
30-06-2016 - Episode 25 ► Season Final
Reuben and guest Nick McCorriston dig into 2XXFM's vinyl collection and play 45rpm records at 33rpm. Includes tracks by Robyn Archer, The Falling Joys, TISM, The Flying Lizards, Dead or Alive, The Eurythmics, Europeans, Was Not Was, They Might Be Giants, and E-Zee Posse.